The site manager for one of Plymouth's most sought-after housing developments has helped boost the profile of the city through becoming a winner in the industry's most prestigious awards scheme.
Cavanna Homes' site manager Ian Crighton-Brown has been awarded a Quality Award in the first round of the National House Building Council's (NHBC) Pride in the Job Awards for his role at the helm of the firm's flagship 504K development located off Plymbridge Lane.
Now in their 37th year, the awards recognise the exceptional contribution site managers make in creating high quality homes.
A video on the Cavanna Homes' You Tube site contains an interview with NHBC Regional Director Nick Cunningham outlining how coveted the awards are: nationally, more than 17,000 site managers compete for the awards, 3,000 of which are based in the south west.
All 201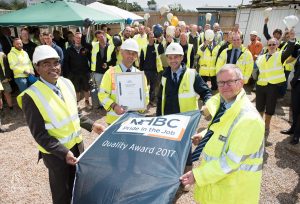 7 Quality Award winners will go through to compete for the Seal of Excellence and Regional Award Winner titles in September.
504K is an eclectic mix of 275 modern, energy efficient, low maintenance homes and is now in phase four of the five phase project.
The award recognises Ian's ability to tackle logistical and diplomatic challenges; when transforming sites into multi-home developments, instilling high standards while maintaining team morale is essential to getting the job done to award-winning standards.
A former DJ, the 47-year-old joined Cavanna Homes in 2009 as a site manager on a small project and took on the role of supporting site manager at 504K with lead site manager Ian Rankin, who won the award in 2014. He took over from Ian at the helm of the project while also assisting with other Cavanna developments across the county.
"My main objective on site is to make sure everyone has a safe working environment, is working to high standards and is happy," said Ian. "I enjoy my job and thrive on producing a good quality product. I'll only accept the highest standards from my team, but knowing the team is happy gives me the greatest satisfaction.
"The award is an amazing achievement for me personally, but it's recognition for my amazing team who all work well together, and particularly my assistant Guy Jary who has been a fantastic asset.
"So even though it's my name on the certificate, it's been a mass team effort, so I owe a huge thank you to my staff on site who have been part of a team that has got us to where we are today.
"The best thing about the award is that it recognises everyone's hard work and efforts."
Fred Sureshkumar, Head of Construction at Cavanna Homes, added: "Ian takes pride in his work and has worked well beyond the company's expectations.
"Site managers play a vital role in the day-to-day operations of our developments, making sure things run smoothly and safely.
"Everyone at Cavanna Homes works hard to ensure we're building the best homes we can, and that starts literally, from the ground up, which is why it's important to have excellent site managers.
"Ian's enthusiasm, drive and hard work mean he's achieved very high standards and boosted customer satisfaction on the 504K project.
"Ian is following in a fine tradition of award-winning Cavanna Homes site managers, who have all played an important role in helping us achieve the top five stars five years in a row for customer satisfaction from the Home Builders Federation."
The NHBC regional finalists will be announced at an event at Sandy Park, Exeter, on Friday, September 15.
https://www.cavannahomes.co.uk/wp-content/uploads/2018/12/post-logo-placeholder.png
320
400
Marianne Piercy
https://www.cavannahomes.co.uk/wp-content/uploads/2018/12/cavanna-homes-logo.svg
Marianne Piercy
2017-08-08 11:54:41
2018-12-19 10:07:35
Cavanna Homes' site manager raises profile of major Plymouth housing development in prestigious award win