Creating a work-friendly, family-friendly home office with tips and tricks from our interior designer
Although it may feel like much longer, it was little over one month ago that many of the UK's working population swiftly assembled makeshift offices in our own homes to continue "business as usual".
While there's a temptation to shuffle away the study into a little-used space – such as under the stairs –is it really a pleasant and inspirational environment in which to work? Will it increase your productivity or will is feel like a punishment every time you go to check your emails?
One thing's for certain, our home offices are going to become increasingly important and whether you want to create a better working environment for yourself for the next few months, or you want to prepare your home for sale at some point in the future, our interior designer Richard Ornelas has some excellent advice:
Tip 1: Creating the right environment
I think light is key. Having natural light in an office space is essential, the closer you can set up your workspace to a window the better you will work. I'd avoid heavy colours to the walls in an office space. You want to feel energised and focused whereas darker colours can make you feel more relaxed. That said, some colour is important, often a stark white room can be sterile and not great for creativity. Adding a lighter colour such as Dulux's Tranquil Dawn, a pale green, can keep a study feeling fresh and welcoming. Another consideration is video conferencing from home… You'll need to make sure you prepare your home office before you go live, as whoever you will be contacting will be sure to be interested in your surroundings. Always make sure lighting comes from the front of your camera so you can be seen clearly, AND you're showing-off your beautiful study in its best light!
Tip 2: Making the most of open plan living rooms for family learning and work space
An open plan living area can be very effectively divided by where you place the sofa. Having distinct "zones" is important, for example, facing away from the dining area can automatically stop members of the family causing a distraction to whoever is working at the dining table, simply because they can't make eye contact. Open bookcases can also be excellent for dividing a room or adding a work zone to the space by drawing a line that's not oppressive because light can still pass through. As a father of three myself, I think that encouraging the family to work around the kitchen table or dining table should be embraced. Children can see what your work involves and you can make sure the children are actually working!
Tip 3:  Keeping your work space clean and organised
Working from home can have lots of distractions, (I've noticed that the washing up always needs doing!) so keeping desk clutter to a minimum is really important. Recycle everyday items such as cups for holding pens or old boxes for storing paperwork (a nice upcycling project for children). Embracing technology is key; for example, using the cloud/ dropbox or an external hard drive is a great way to store information and still be able to take it into work without having to drag a bag full of notebooks around with you. I think another important thing is to prepare for when you are working from home by putting your laptop and phone on charge the night before so you don't need to run cables to the nearest power source. Charge again when you have lunch.
Tip 4: Dividing a shared office between your work and school work
This is a difficult scenario especially if you are short on space. I think seeing the children's school work can be inspiring and help with a positive attitude towards your own work. A large pin board is always nice to have on the wall in a study, this could either be cork or metal for magnets to help pin the children's work to it. By doing this the children feel proud to have their work on display and you can feel the benefits of working from home by being surrounded by your family and their activities.
Share photos of your home office with us by tagging us in your pictures or sending them to use via Facebook Messenger or Instagram!
Here's a photo of our stunning home office in our Cavanna @ Wolborough Hill show home in Newton Abbot.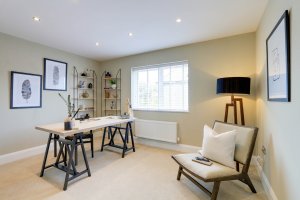 https://www.cavannahomes.co.uk/wp-content/uploads/2020/04/bed-4v1.jpg
2432
3648
Kathryn Teague
https://www.cavannahomes.co.uk/wp-content/uploads/2021/10/cavanna-homes-logo-web-copy.svg
Kathryn Teague
2020-04-22 11:41:36
2020-04-22 11:41:36
Creating a work-friendly, family-friendly home office with tips and tricks from our interior designer