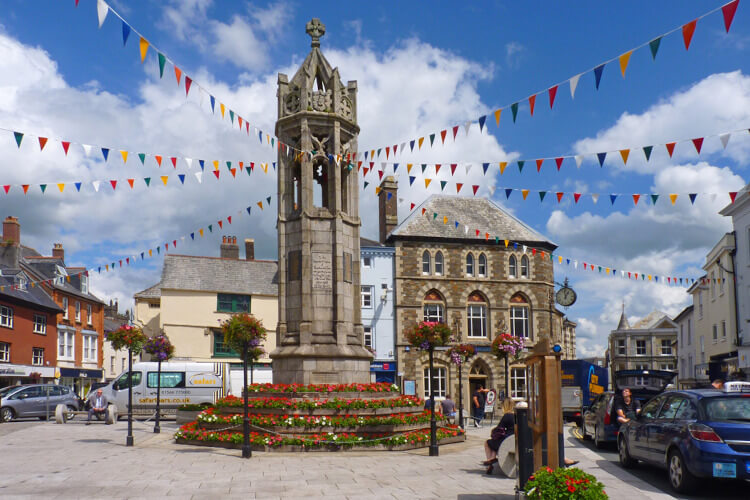 The best market towns in North Devon and North Cornwall
Breathtaking landscapes, rich history, and charming villages await you in the best towns in North Devon and North Cornwall. These picturesque market towns are brimming with character and family-friendly attractions, making them perfect destinations for a relaxing getaway or even the next chapter of your life. Are you ready to uncover the hidden gems of these enchanting regions?
North Devon's charming market towns
North Devon is home to some of the country's most beautiful and historic market towns. From quaint villages and Victorian seaside towns to picture-perfect fishing villages, their rich history, stunning architecture, and vibrant markets, make these locations worth exploring.
Barnstaple
Barnstaple, the oldest borough in the country, is a true testament to the rich history of North Devon. With a mix of Victorian, Medieval, and Georgian architecture, this charming market town offers a fascinating glimpse into the past.
But don't let its history fool you – Barnstaple is also a bustling shopping hub! The town's Barnstaple Pannier Market held most days of the week, offers a wide range of goods and local products, perfect for those seeking a bit of retail therapy. While visiting, you might even catch one of the art galleries showcasing local artists' work or treat yourself to cakes and tea in one of the charming tea rooms.
South Molton
South Molton, one of Devon's oldest towns, offers a delightful blend of history and attractions. This charming town is not only a great place to shop at the South Molton Pannier Market on Thursdays and Saturdays, but it's also home to attractions, such as the honey farm and chocolate factory.
South Molton's town centre is bustling with activity, featuring a variety of pavement cafes, shops, and restaurants. Whether you're looking to grab a pint at the pub, listen to some music, or simply enjoy a leisurely stroll through the charming countryside, South Molton has something for everyone.
Great Torrington
Great Torrington, also known as the Cavalier Town, is a captivating destination brimming with history and vibrant community spirit. The Battle of Great Torrington, which took place in 1646, was a major event during the English Civil War. This charming town where the battle unfolded, played a significant role in its outcome.
Today, the town offers extraordinary views, re-enactments, festivals and General markets on Fridays and Saturdays, showcasing its role as a commercial and agricultural centre.
These activities allow visitors to immerse themselves in the rich history and culture of Great Torrington. Don't miss out on nearby attractions like RHS Garden Rosemoor and Dartington Crystal, which add to the charm of this enchanting town.
Holsworthy
The traditional market town of Holsworthy is a delightful destination with roots dating back to Saxon times. Its charming town centre is filled with shops, cafes, and pubs, offering plenty of opportunities for visitors to explore and enjoy the local culture.
One of Holsworthy's most notable attractions is its weekly livestock market, attracting farmers and traders from far and wide.
If you're looking to move to Holsworthy, then visit our new homes at Market Place. Our Marketing Suite is open 5 days a week, Thursday to Monday from 10am – 5pm.
Bideford
Bideford, a lively market town in North Devon, offers visitors a vibrant atmosphere and a variety of attractions.
With its waterfront, the Bideford Farmers Market held regularly, a pannier market home to some great independent shops, regular family-friendly events, and an assortment of pubs, and restaurants, Bideford is a great destination for a day of exploration and enjoyment.
Delightful market towns in North Cornwall
The beauty and charm of market towns in North Cornwall are just as captivating as North Devon towns. With their stunning landscapes, attractions, and friendly communities, these towns offer an unforgettable experience for visitors.
Let's uncover some of the best market towns in North Cornwall.
Bude
Bude, a coastal town known for its beautiful beaches and vibrant town centre, is the perfect destination for those seeking a mix of relaxation and excitement. This charming town is close to the town of Stratton and transformed into a popular seaside destination in Victorian times, offering visitors a glimpse into its rich history. Bude Farmers and Craft Market is open every Friday in summer and is located at The Wharf.
With lively events throughout the year, such as the Bude Jazz Festival, the Bude Folk Festival, and the Bude Carnival, there's always something happening in this bustling coastal town. Whether you're looking to catch some waves, enjoy a leisurely stroll through the town centre, or indulge in some local cuisine and shopping, Bude has something for everyone and our new homes at Bellevue are in the perfect location to immerse yourself in all things Bude.
Launceston
Launceston, a historic town in North Cornwall, offers a blend of medieval charm and modern amenities. Its impressive castle, built in the 11th century, serves as a striking reminder of the town's rich history. The bustling town centre is home to a variety of shops and eateries, perfect for a day of exploration and indulgence, and Launceston's Market in the Square takes place on the second Saturday of the month in the Town Square.
Narrow streets and historic buildings create an atmosphere of old-world charm that's hard to resist. Whether you're interested in learning about the town's past or simply enjoying a day in a charming setting, Launceston is a must-visit destination in North Cornwall.
Thinking of moving to North Devon or North Cornwall?
North Devon and North Cornwall offer a treasure trove of charming market towns, scenic villages, and coastal gems, each with their own character and attractions. If you're considering making one of these beautiful regions your permanent home, Cavanna Homes is ready to help with a range of high-quality new homes in Cornwall and new homes in Devon.
https://www.cavannahomes.co.uk/wp-content/uploads/2023/08/launceston-war-memorial.jpg
500
750
Lewis
https://www.cavannahomes.co.uk/wp-content/uploads/2023/01/Cavanna-100-years-white-logo.png
Lewis
2023-08-24 14:28:27
2023-08-24 16:20:52
The best market towns in North Devon and North Cornwall