Top tips on growing your own vegetables
Growing fruit, vegetables and herbs can be wonderfully rewarding, especially when using them in your cooking. We're here to share some top tips and tricks to help you to create your own fruit and vegetable garden this summer.
You don't need much room to grow your own produce; patio space for some pots and planters or an area of the garden that can host a raised bed is a great starting point, but make sure that it gets at least six hours of full sun a day.
Pots, planters, and compost can all be bought from local garden centres, along with garden equipment, seeds and starter plants. If you're in the Exeter area, Plants Galore, Bernaville Nurseries or St Bridget Nurseries are nearby to Cavanna @ Elm Park and our Equinox neighbourhood. These garden centres are also easy to get to by car from our forthcoming homes at Oak Mount in Hemyock, however, if you want something a little closer to the area, The Old Well Garden Centre is a family run business offering some of the best and largest range of plants all year round.
What to sow in July?
Beetroot, lettuce and radishes can be sown in early July. Beetroot is best grown in a deep pot or bed where 10-12 inches of depth can be achieved for root growth. Radishes, however, will happily grow in a small container. Their seeds need to be scattered in the pot followed by a healthy and regular watering routine. Loose-leaf lettuce and salad-leaf mixes are ideal for growing in small containers as they produce less dense growth, ideal for picking individual leaves.
What to sow in August?
Lettuce can continue to be sown outdoors in August for an early winter crop. You might want to cover your containers with protective structures called 'closed cloches' to protect emerging leaves from the cooling temperatures in late September.
Cabbages are another late summer vegetable that you can sow in August. Seeds should be sown in seed trays called 'modular trays' but you could use recycled yoghurt pots or egg cartons as an alternative. Roughly 2-3 months after sowing, cabbages need to be transferred to a bigger spot to mature; you could grow one of two in a large, deep container. These should then be ready to harvest around January/February time the following year – perfect for a winter warmer meal!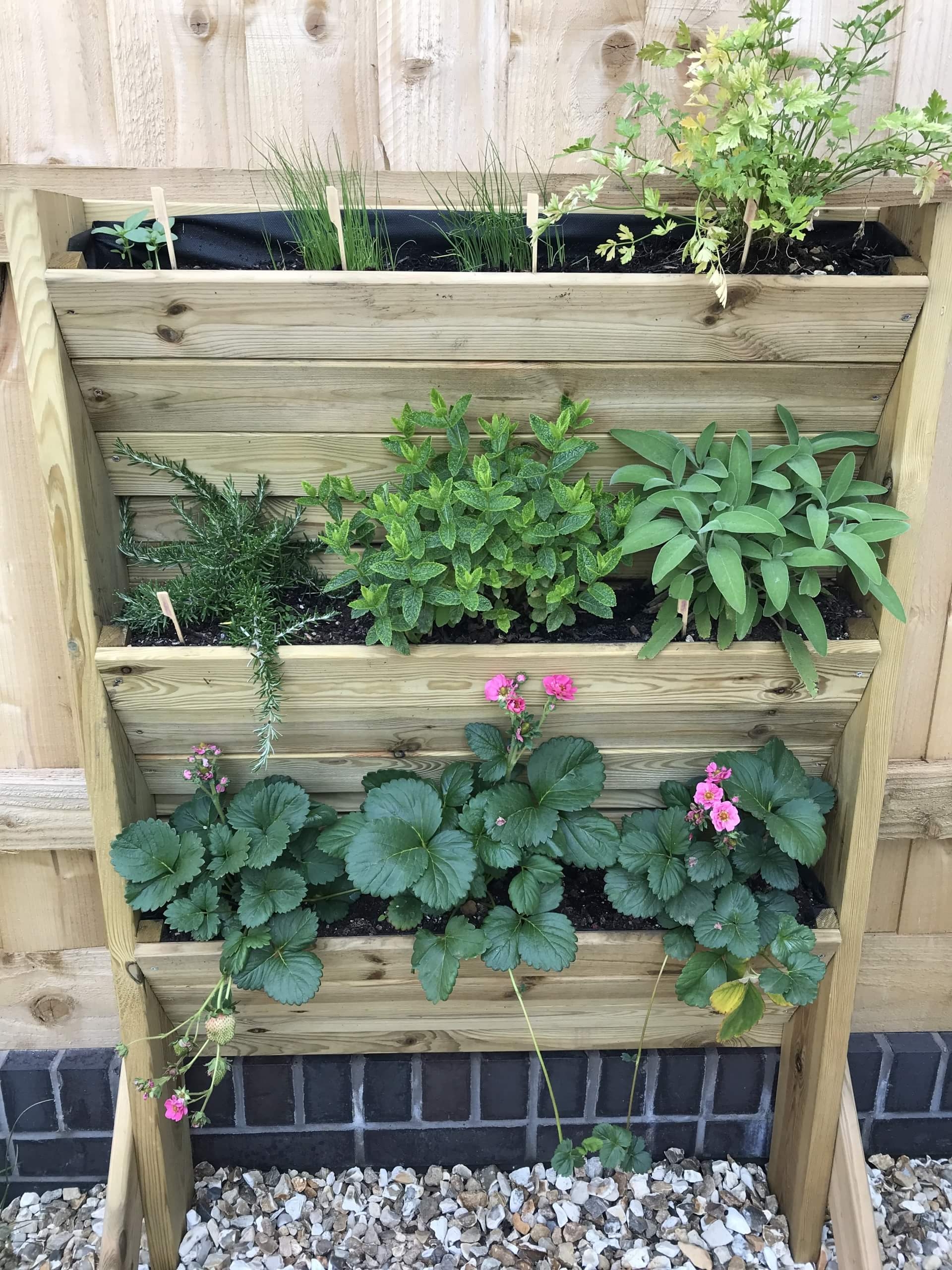 Why not try your hand at growing sweet strawberries? Strawberry plants do well in most containers such as terracotta pots, hanging baskets or grow bags, as long as they're planted into rich, fertile soil and in a sunny position.
Don't be tempted to squeeze too many strawberry plants into one pot as they enjoy lots of space to grow.
Not forgetting growing your own fragrant herb garden! 'Long tom' pots allow deep root growth meaning herbs can be potted and left undisturbed. Mint, chives, sage, thyme and rosemary are amongst the top best herbs to grow in containers according to The Guardian, plus they're loved by garden wildlife too!
Be sure to tag us in photos of your fruit and vegetable pots or even your herb gardens – we'd love to see what you grow and produce! Good luck.
Here's one of our new homeowners' impressive herb ladders! You can follow Arianne on Instagram here – @onmy_dinnertable.
https://www.cavannahomes.co.uk/wp-content/uploads/2021/07/IMG_9553-scaled-e1625135639458.jpg
2560
1920
Kathryn Teague
https://www.cavannahomes.co.uk/wp-content/uploads/2021/10/cavanna-homes-logo-web-copy.svg
Kathryn Teague
2021-07-01 11:49:31
2021-07-01 11:49:31
Top tips on growing your own vegetables