Exploring Exeter's rich and vibrant history
Devon's capital, Exeter, is an ancient Roman city rich in history and cultural heritage. Nestled within the city are fascinating monuments and attractions that tell the story of its past.
The city began as a Roman settlement circa 50 AD. The Roman Legion built a fort overlooking the River Exe, which later evolved into a town they called "Isca" – the Celtic word for "flowing water", and the origin for Exeter's Roman name.
We've hand-picked a selection of the finest sights and hidden treasures to explore on foot across the city, and right on the doorstep of our new homes in Exeter, including Cavanna @ Elm Park and our Equinox community.
Exeter Cathedral
No historical day out in Exeter is complete without a visit to the magnificent Cathedral, considered to be the city's most iconic landmark. Building began in 1050, but wasn't completed until 350 years later in 1400. It's renowned for its striking gothic architecture, beautiful stained glass, Astronomical Clock, and for housing the longest continuous medieval stone vaulted ceiling in the world!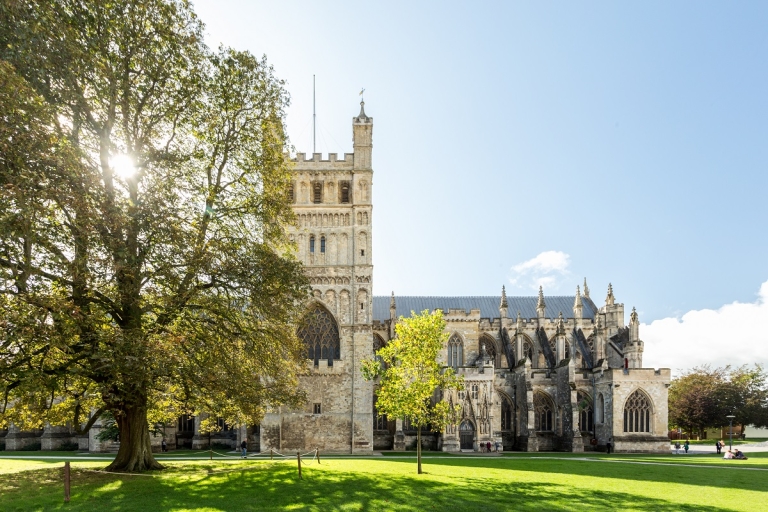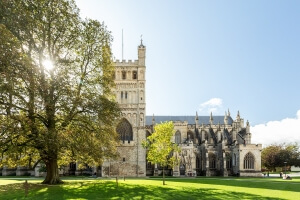 Immerse yourself in the Cathedral's history by taking an in-person or audio-guided tour to explore the building, precinct, garden and roof. Alternatively, pick up a guide booklet and wander at your leisure. The Cathedral also hosts a number of events, exhibitions and performances – including the city's annual Christmas Market – so it's worth checking their What's On page before visiting.
The Cathedral is at the heart of the city centre and surrounded by the beautiful Cathedral green. Take in the views and enjoy a drink or a bite to eat at the restaurants or cafés close by. Visiting times are 9am – 5pm Monday to Saturday, and 11:30am – 4pm on Sundays. Admission is free for children under 18 and for residents of Exeter who hold a  Residents Card.  A non-resident admission fee is £7.50.
Red Coat Guided Tours
Exeter's famous Red Coat Guided Tours depart from the Cathedral Green and are free to all*. Depending on which day you choose to take a tour, you'll learn about the surviving medieval buildings within the city walls, Exeter's fantastic quayside or about the ghosts and legends of the city.
St Nicholas Priory
Located just a 6-minute walk from the Cathedral, on Mint Lane is the charming St Nicholas Priory, a restored Tudor house bursting with medieval character and Elizabethan artefacts.
Originally founded by William the Conqueror in 1087 as a Benedictine monastery, it was later destroyed in 1536 following Henry VIII's Dissolution of the Monasteries, and subsequentially turned into a wealthy merchant's townhouse with strong ties to the city's woollen cloth trade.
Plunge into Tudor England with period costume dress-up, interactive games and immersive plays for an engaging family-friendly experience. Don't miss the medieval kitchen, parlour, Great Chamber and vaulted cellar which have been carefully preserved.
The Priory is open on Sundays and Mondays from 1pm- 4pm and additional events, workshops, tours and plays can be found on their What's On page. Admission to the Priory is free of charge*.


Tuckers Hall
Delve deeper into Exeter's woollen cloth history and head over to Tuckers Hall, which has been occupied by the Guild and Incorporation of Weavers, Fullers and Shearmen since 1471. Located on Exeter's Fore Street, just a 2-minute walk from St Nicholas Priory, the Hall was established to enable merchants to promote their woollen trade internationally.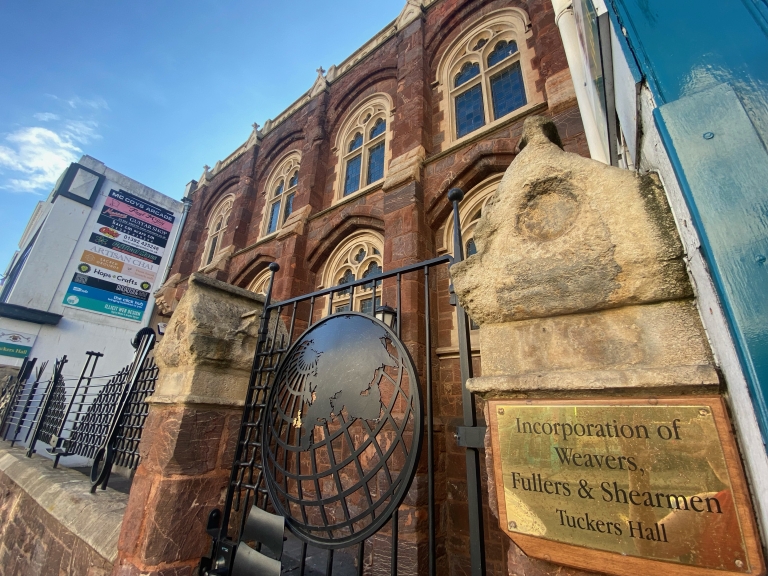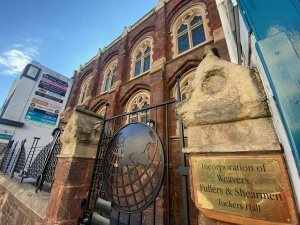 Today, the Incorporation is a thriving fellowship and charitable body which invites people from all trades and professions, to share their expertise. The Guild particularly focuses on helping young people into trades and providing significant opportunities to them.
The Hall is open on Thursdays and Saturdays from 10:30am – 1pm, as well as Tuesdays during the summer for those who make a booking in advance. Admission is free for all ages*.
Custom House
The Custom House has been anchored in the city's industrial history since 1680, having been built in response to its soaring and prosperous woollen cloth trade. Its location on the Exeter Canal allowed for easy processing, storage and transportation of woollen cargo.
Known for its elaborate plaster ceilings and impressive staircases, the building is now a bustling Visitor Centre where you can absorb the city's industrial history through vivid displays, artefacts, events and cultural exhibitions. For literature lovers, the Quay Words Literature Hub host exciting events, workshops and courses, led by talented authors and poets from around the world.
The Custom House is open 7 days a week, from 10am until 5pm and admission is free*.


If you're interested in finding out more about the compelling medieval and Roman history of Exeter, why not visit these other attractions:
If you'd like to find out more about our fantastic new homes developments across the magnificent city of Exeter, click the links below, or for all our other communities across the Westcountry, click here.
*Correct at time of writing.
https://www.cavannahomes.co.uk/wp-content/uploads/2022/06/image4-scaled.jpeg
1920
2560
Lara Newman
https://www.cavannahomes.co.uk/wp-content/uploads/2021/10/cavanna-homes-logo-web-copy.svg
Lara Newman
2022-06-23 16:27:01
2022-06-23 16:39:48
Exploring Exeter's rich and vibrant history