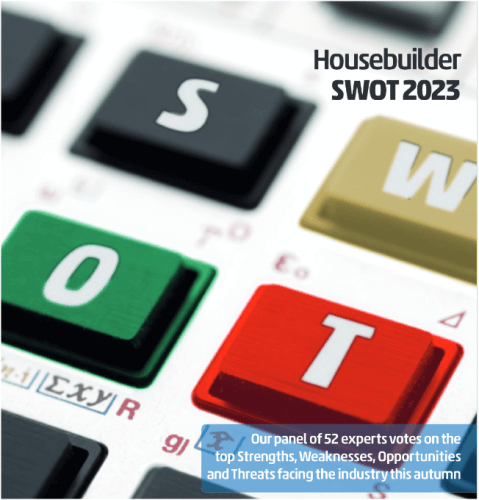 Housebuilder SWOT analysis 2023
Our Managing Director, Grayham Tucker was one of 52 leading industry experts across the housebuilding sector to feature in this year's annual SWOT analysis by Housebuilder magazine to share the current strengths, weaknesses, opportunities and threats facing the industry today.
The demand for new homes is reported as the top strength for housebuilders across the UK and the environmental agenda, specifically the differentiation to the second-hand market, is seen as the main opportunity. Meanwhile, planning delays and the lack of land coming through continues to be the biggest weakness and concern respectively, and the return of a recession is a looming threat.
As a South West homebuilder, Grayham noted that the location, design and size of new homes in the Westcountry was a key attraction for house-hunters. He said: "The rate of sales in Exeter and Tavistock reinforces the theory that location and quality continue to be a top priority for buyers. Those who want – or need – to move are attracted to the modern design and build, which means significantly lower running costs."
To read the Housebuilder's 2023 SWOT analysis, click here.
https://www.cavannahomes.co.uk/wp-content/uploads/2023/09/Housebuilder-SWOT-front-cover.png
680
652
Kathryn Teague
https://www.cavannahomes.co.uk/wp-content/uploads/2023/01/Cavanna-100-years-white-logo.png
Kathryn Teague
2023-09-07 14:44:14
2023-09-07 14:45:39
Housebuilder SWOT analysis 2023